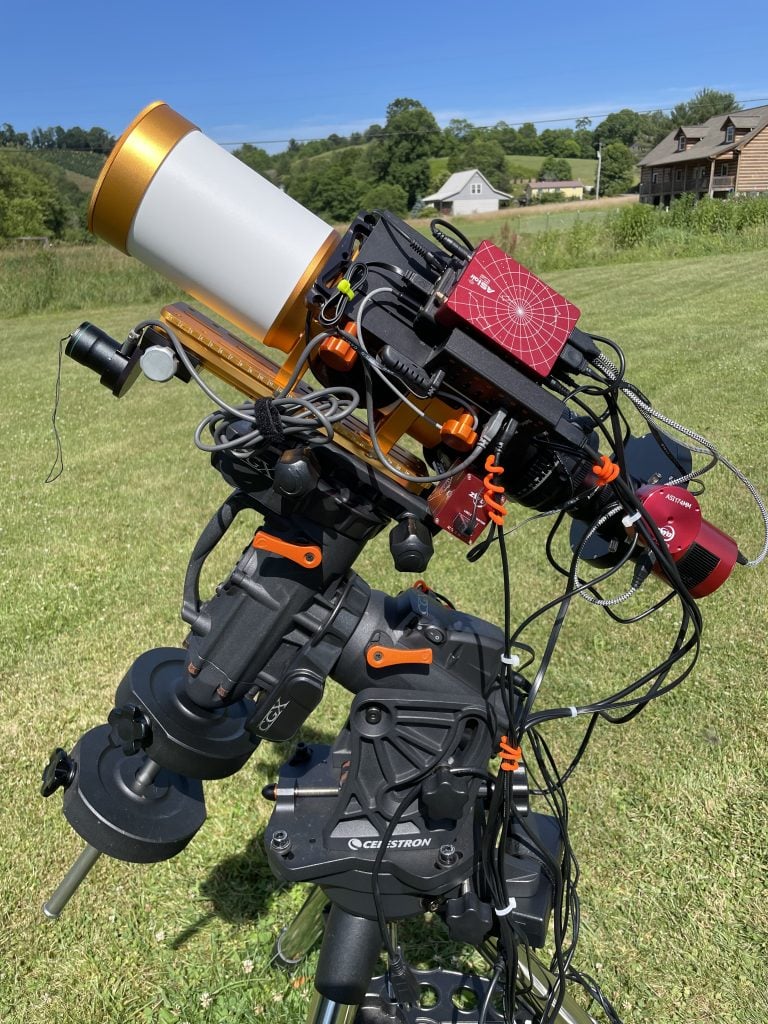 A more organized list:
OTAs and Mount
8 inch Celestron RASA
180mm Orion Maksutov-Cassegrain
Radian Raptor 61mm Refractor
Williams Optics FLT91mm Refractor
DayStar SolarScout in H-Alpha (for viewing our Sun)
Celestron CGX mount
Imagers (MC=Color, MM=Mono)
ASI 1600MM Pro
ASI 2600MM Pro
ASI 120MM for guide scope
ASI 462MC Planetary imager
ASI 183MC Pro
ASI 183MM Pro
ASI 174MM Planetary, solar and auto-guiding
Filters
Baader f/2 SII (narrowband for fast telescopes)
Baader f/2 Ha(narrowband for fast telescopes)
Baader f/2 O-III (narrowband for fast telescopes)
Baader UHC-S / L (ultra high contrast for light polluted skies)
Baader ND 0,6 Transmission 25%
Baader UV/IR-Cut
Baader Solar Continuum Filter
Baader AstroSolar Filter
Optolong L-enhance (dual-band pass for light polluted skies)
Optolong L-Pro (multi-band pass for light polluted skies)
Optolong Filter Set H-Alpha, SII, OIII
Starizona Filter Drawer
Computers
ASIair Plus
Pegasus Astro Pocket Powerbox
Windows 10 Laptop
Accessories
StarSense Autoalign
Celestron Focus Motor (this focus motor can be used on the Orion Mak)
ZWO Guide Scope
ZWO EAF module (on OTAs)
ZWO OAG (Raptor 61)
ZWO Filter Wheel (Raptor 61)
QHY Guide Scope
QHY Polemaster Polar Alignment Scope
Pegasus Astro FlatMaster 250 Panel
Various sizes of Dew Heater Strips
Batinov masks for precise focusing
Original Setup
8″ Rowe-Ackermann Schmidt Astrograph (RASA 8)
CGX mount
Starsense Autoalign
Celestron Focus Motor
Star Pointer Finderscope
ASI294MC Pro Color DSO imager
ASI120MM Mini imager and Mini guide scope for auto-guiding
ASIAIR WiFi device for remote imaging
Optolong L-enhance Light Pollution Dual-Bandpass imaging filter
Starizona Filter Drawer
As you can see I've made a few changes and added several things since I started this hobby in August.
I also added a dovetail bar to the top in order to allow various pieces of equipment to move with the tube instead of having a ton of wires hanging off the back and potentially becoming tangled.
Top dovetail bar (added)
Dovetail adapter plates for mounting (added)
Pegasus Astro Pocket Powerbox (added)
Dew heaters for the tube and guide scope (added)
QHY PoleMaster Polar Alignment Scope (added)
ASI1600MM Mono DSO imager (new)
Startech 7 Port USB hub (added)
Optolong L-Pro Deep Sky Filter (new)
Baader Nebula Filter (new)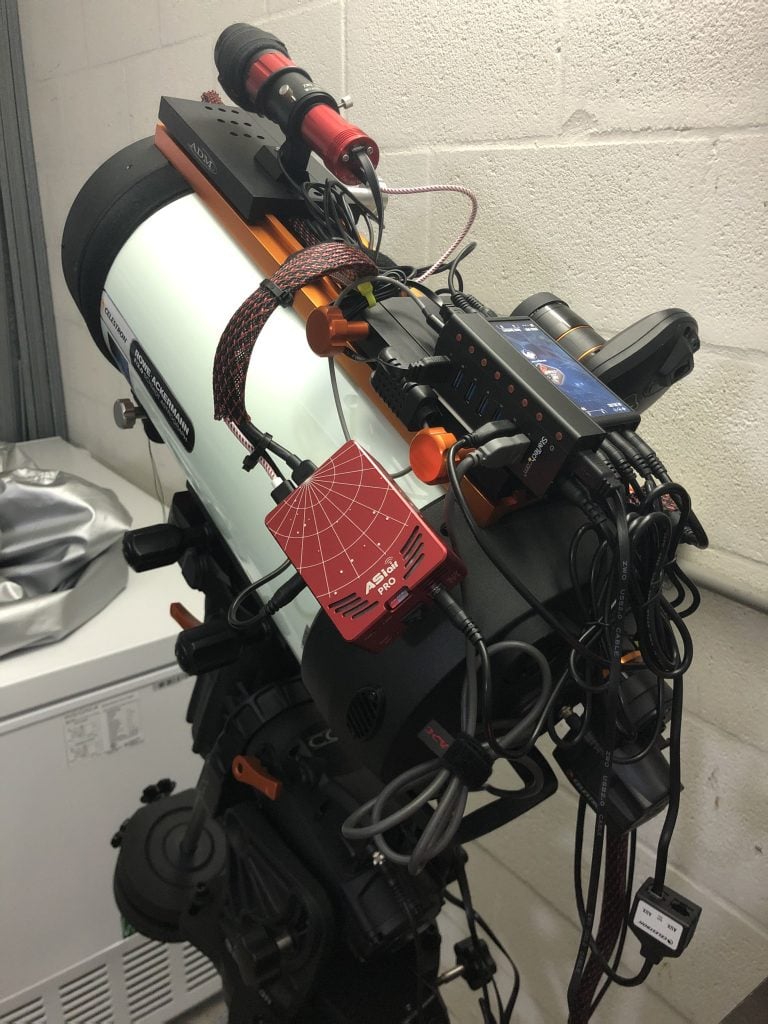 I think the only new piece here is the ASIair Pro and I moved the USB hub around.
I also have the tripod location marked in the yard so that I get it mostly in the same spot each time I'm able to take it out. This eliminates the need for a finder scope. And it makes it super easy to align quickly using the QHY PoleMaster camera and software.
Now if I can just get the weather to cooperate.